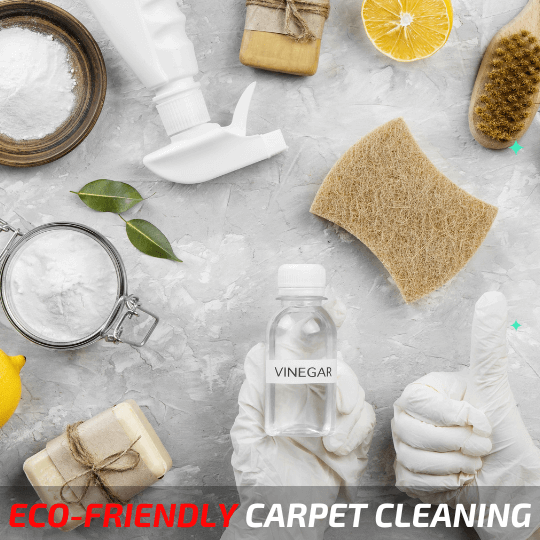 When the world is switching to greener practices and more environmentally friendly techniques, eco-friendly carpet cleaning becomes a need everyone must adopt.
Professionals are switching to better cleaning regimes that are safe for the environment and help sustainable development. These are cost-effective in the long run and protect the planet from toxic waste.
To help remove stains odors environmentally friendly way, you must understand the cleaning requirements and methods that are safe for the ecology, to begin with.
The eco-friendly techniques approved by industry experts are discussed below to give your carpet the best cleaning service it deserves.
Let us discuss this in detail.
Best Eco-Friendly Carpet Cleaning Tips
Carpet cleaning is an extensive process that involves time, labour and money. Doing it while keeping eco-friendly carpet cleaning techniques in mind is an excellent idea for a safer today and a better tomorrow.
Among many techniques approved by industry experts, these are widely accepted and commonly used to be some of the effective cleaning methods one must adopt for a greener and cleaner tomorrow.
Some of the most non-harmful and effective eco-friendly carpet cleaning methods without a machine is the following:
Mopping And Sweeping The Carpet Regularly
One of the most helpful carpet cleaning tips is to only mop your carpet regularly, especially before an extensive clean-up. You should sweep and clean the carpet to eliminate loose dust and dirt particles that accumulate on it and make it look dirty and become filthy.
So a regular mopping of your carpet ensures your carpet's fabric stays free from the dust and dirt accumulating with time.
Using Vinegar And Baking Soda
Using homemade natural recipes to clean the carpet also benefits the fabric to stay soft and silky and helps in an eco-friendly carpet cleaning procedure.
. One such remedy is to use vinegar with baking soda to clean the carpet and make it look beautiful again. The vinegar works on the stains and spots and makes the tough spots fade with time. You must pour vinegar with baking soda into the affected areas and let it sit for a few minutes. Afterwards, clean the site and wash the area.
Dry Cleaning The Carpets With Non-Toxic Solvents
To come up with environmentally friendly techniques for carpet cleaning, try dry cleaning the carpet with non-toxic, non-harmful solutions to give it a friendly clean-up without harming the environment and the carpet.
You can use ecologically accepted solvents and a microfibre cloth to work on the stain that may get permanent with time. Try to be quick and prompt while dealing with stains.
One of the most effective environmental cleaning methods is the organic solutions that may work equally well on carpet stains. You need to read the label to determine if it is all-natural and safe for the carpet as per your needs.
Also, the organic products are mild and non-harsh, making them fabric friendly. Also, the residuals are not harsh for small kids and pets who will be on the carpet for the longest time without any protection.
Use Dry Cloth And Blotting Paper For Stains
Many eco-friendly carpet cleaning methods must be incorporated to be best for the carpet and the environment. Using blotting papers and dry towels is one of the safest of them all. As soon as there is any accidental spillage, try using blotting paper on the stain to soak all the excess of the spill on the paper, not on the carpet.
So these are some of the environmentally friendly carpet cleaning methods that do not need machines to clean the carpet and are more sustainable for the environment.
Benefits of Eco-Friendly Carpet Cleaning
Eco-friendly carpet cleaning is highly beneficial for the planet and the living human and animal species. The eco-friendly measures are essential for the sustainable growth of society and its long-term survival needs.
The benefits are:
Environmentally friendly solvents are more helpful in the sustainable development of society. The world needs safe measures for the human race and the animal kingdom.
Better Carpet Cleaning Technique
Organic treatment for the carpet is better than chemically treated techniques. Organic carpet cleaning helps stay clean without damaging the fibre and the carpet's natural texture.
Safe For All-Humans And Pets
An eco-friendly carpet cleaning method is way safer for all than any other carpet cleaning method. They do not harm humans, pets or plants. They are safe for all and have no residual waste that can harm society.
There is no toxic waste after an environmentally friendly clean-up of your carpet. No residual waste can come at them when coming in contact with anyone.
Going for a more sustainable form of carpet cleaning than chemical treatments is advisable.
Features Of Sustainable Eco-Friendly Carpet Cleaning Products
The prominent features of sustainable, eco-friendly carpet cleaning products are that they are non-harmful to anyone. Even when anyone comes in contact with them, they are not harmed by their use.
Eco-friendly products are biodegradable and hence have no environmental harm and put no pressure on the ecology. These products break easily and do not leave any residual waste.
Some of the sustainable, ecologically accepted products are organic and natural. They have no chemical reactions with any other product, so they are safe for all.
Fewer Volatile Organic Compounds (VOCs)
Eco-friendly products are low in respiratory ailments triggering VOCs. VOC components increase the conditions that can be a health risk. Sustainable products are low in these.
Eco-friendly products are non-toxic and do not cause skin irritation, eye infection, or many ailments.
So going green with your carpet cleaning methods is a step ahead with your cleaning regime. It ensures not only a well-cleaned carpet but a cleaner environment too.
It also helps with sustainable development and thinking about the future generation- not to harm them with the toxic waste of carpet cleaning.
So keep this in mind and protect your environment. Call professionals who follow only green carpet cleaning methods.